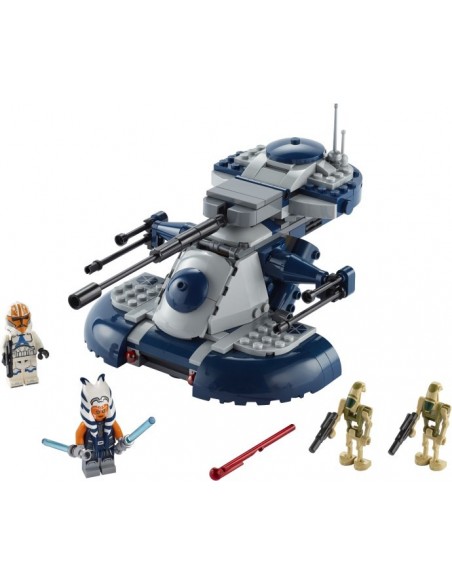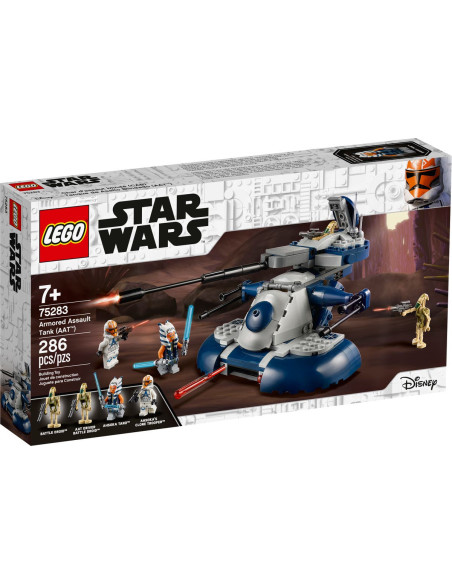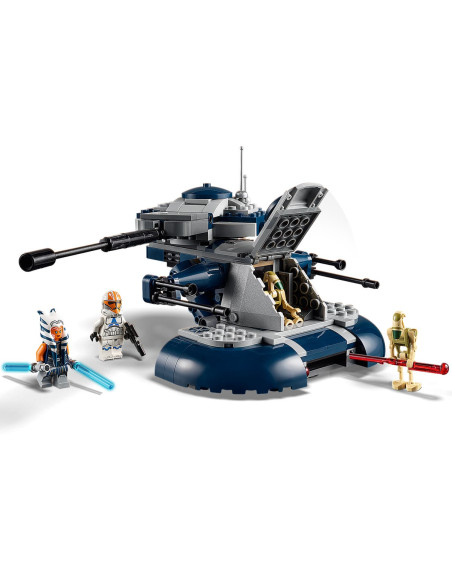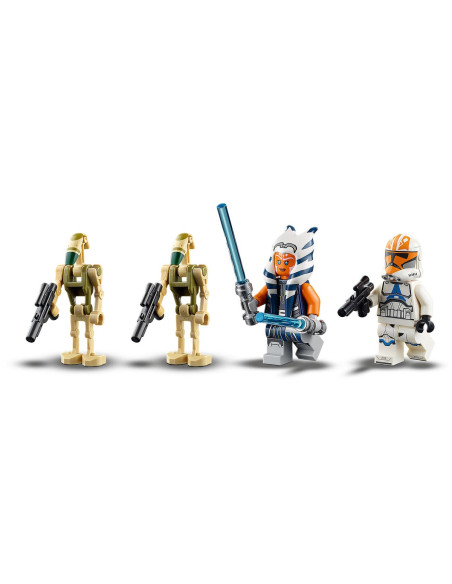 Kids can enjoy hours of epic battles with this LEGO ® Star Wars : The Clone Wars AAT (75283) building set. The AAT features plenty of realistic details to inspire fun, creative play, including opening hatches with space for battle droids, LEGO minifigures, 2 spring-loaded shooters and a rotating embrasure with elevating cannon.
501st Legion vs Battle Droids!
This action set includes 2 LEGO Star Wars ™ minifigures – Ahsoka Tan and her clone trooper – plus LEGO AAT Tank Driver and Battle Droid figures and various weapons to inspire creative play. A great addition to any LEGO Star Wars fan's collection. The building kit can be played both alone and in a group.
Action from the Star Wars saga in the style of LEGO sets!
The LEGO Group has been producing replicas of iconic Star Wars battleships, vehicles, locations and characters since 1999. Featuring a diverse range of sets that will delight fans of all ages, the line has been a huge success.
Relive the thrilling battles between the 501st Legion and the battle droids from Star Wars : The Clone Wars with this awesome LEGO® model of the AAT Assault Tank (75283).
This set includes 2 LEGO® Star Wars ™ minifigures – Ahsoka Tan and her clone trooper – plus LEGO minifigures of an AAT tank driver and a battle droid, plus cool weapons including 2 lightsabers for action-packed storytelling.
The AAT model offers a host of awesome battle features, such as 2 spring-loaded shooters, a rotating elevating gun turret, as well as opening hatches at the front and a gun turret to accommodate battle droids.
This 286-piece construction set makes a great gift idea and offers a fun and fulfilling building challenge for boys and girls aged 7 and up. Can be combined with other LEGO® Star Wars ™ sets for even more creative fun.
AAT model measures over 12cm high, 21cm long and 14cm wide. Fans who haven't had enough of the creative fun can also drive this vehicle in the LEGO® Star Wars : The Skywalker Saga video game.
This toy is powered by creative kids' minds, so no batteries are required. Whether you're building or playing alone, or sharing the fun with family or friends, the galactic adventures never end!
Looking for the perfect kit for a child who is new to the realm of LEGO® toys? This Star Wars : The Clone Wars themed set includes easy-to-understand, printed instructions to help kids build without help… and feel awesome as a Jedi Knight!
LEGO® Star Wars ™ sets are great for kids and adult fans who want to build and display models, re-enact scenes from the memorable Star Wars saga, and create their own unique stories.
Since 1958, LEGO® bricks have met the highest industry standards for consistency and easy assembly and disassembly - no need to use the Force!
LEGO® bricks and pieces are tested in almost every way imaginable to ensure that this LEGO Star Wars ™ AAT Armored Personnel Carrier model meets the highest safety standards both here on planet Earth and in galaxies far away!
Age

7+

Number of pieces

286

Launch year

2020

Minifigures

21
Customers who bought this product also bought:
Customers who bought this product also bought:
Other products you may be interested in