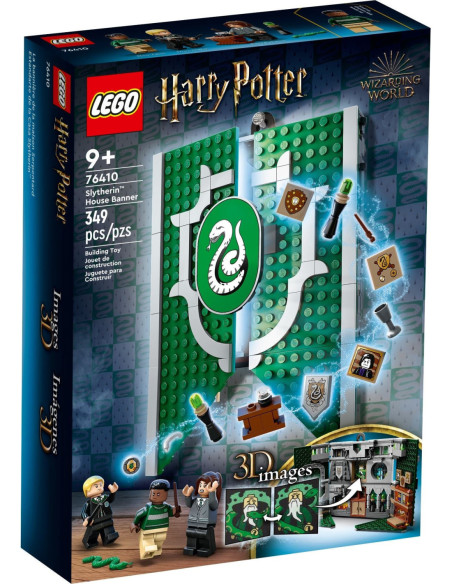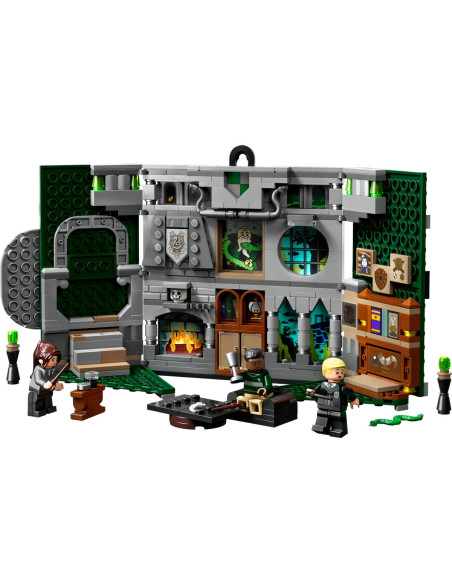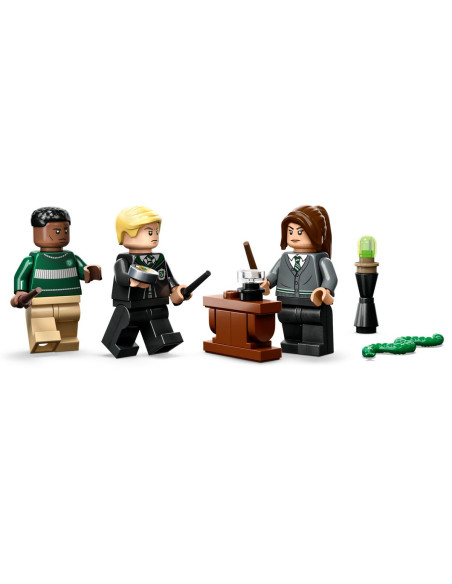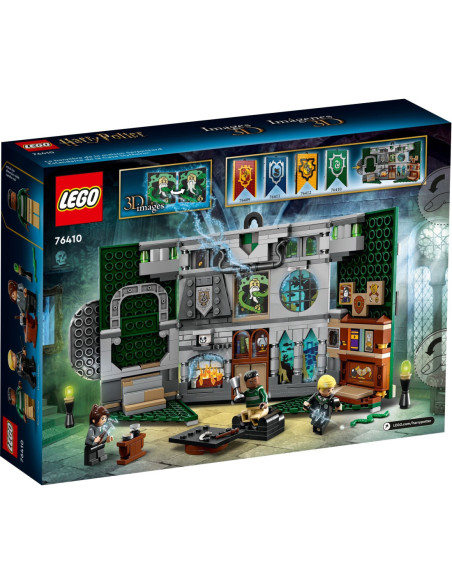 Slytherin's Flag - Harry Potter™ LEGO 76410
Harry Potter fans can show everyone their loyalty to Slytherin House with this LEGO flag (76410). This great gift for any occasion for ages 9 and up includes a printed Slytherin crest piece and a wall hanging element. The pledge can also be opened to reveal a gorgeous model of the Slytherin common room, including a buildable sofa, lamps and stairs. The sliding back plate creates magical 3D effects, including a moving scary eye, lights turning on and off, a secret message that appears in the locker, and more.
Collectible toy
This compact kit features one of four Hogwarts Halls collectible flags. Includes a Draco Malfoy minifigure and new-for-March-2023 Pansy Parkinson and Blaise Zabini minifigures. There's also a Slytherin locket, so kids can play out countless adventures.
Download the LEGO Builder app
The LEGO Builder app guides kids through an intuitive building adventure. It allows them to zoom and rotate models in 3D, save kits and track progress.
LEGO® Harry Potter™ Slytherin Flag (76410) - Kids can show everyone their loyalty to Slytherin with this buildable flag. Hang it on the wall or open it to reveal a detailed common room
3 Slytherin Dormitory Figures and Story Play Accessories - Draco Malfoy, Pansy Parkinson and Blaise Zabini minifigures, plus Slytherin locket and snake pieces
Authentic details - The banner boasts the Slytherin crest and hides a common room with a table, sofa, 2 lamps and a cabinet where a secret message is revealed
3D Effects - The sliding back plate creates a moving image of the Black Lake in the window, a fire burning in the fireplace, Salazar Slytherin's smiling or serious face and other effects
A fun gift for any occasion - Harry Potter fans aged 9 and up will enjoy an enchanting adventure with this 349-piece playset, which makes a great gift for birthdays, Christmas or any other occasion
Travel games – When closed, banner measures over 8" (20cm) high, 5" (13cm) wide and 1" (3cm) deep. The compact kit fits in children's backpacks and will be at hand wherever they go
Intuitive building guide – The LEGO® Builder app takes little builders on a creative adventure with tools to zoom and rotate 3D models, store building blocks and track progress
4 collectible Hogwarts House Pawns - Kids can expand their pawn collection with the 76409 Gryffindor Pawn, 76411 Ravenclaw Pawn and 76412 Hufflepuff Pawn kits
Guaranteed quality - LEGO® bricks and pieces meet unrelenting industry quality standards, allowing for easy and safe assembly
Safety First - We drop, crush, twist, heat and analyze LEGO® bricks to ensure they meet strict global safety standards
Age

9+

Number of pieces

352

Launch year

2023

Minifigures

3
Other products you may be interested in