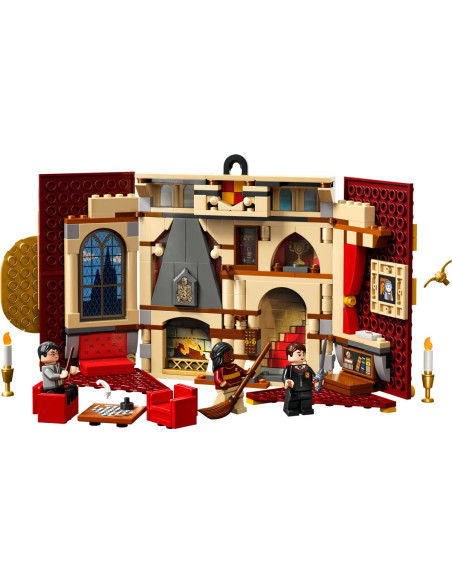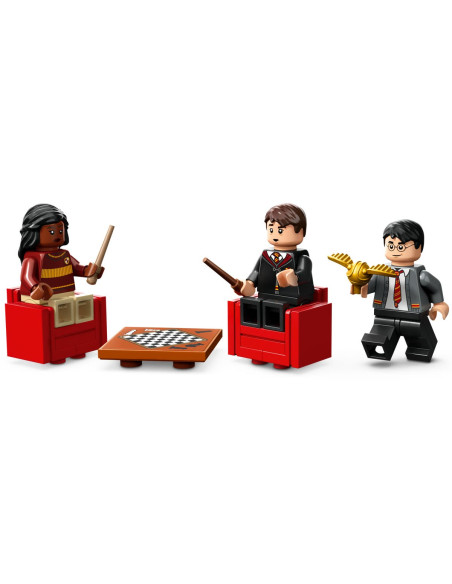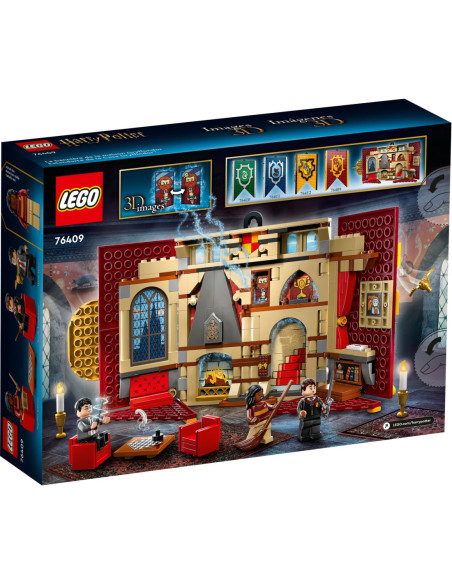 Gryffindor Banner - Harry Potter™ LEGO 76409
With the Gryffindor Flag (76409) made from LEGO ® bricks, Harry Potter fans can show everyone their loyalty to Gryffindor. A great gift for children aged 9 and up, it includes a piece with the Gryffindor coat of arms and an element for hanging on the wall. The pledge can also be opened to reveal a charming version of the Gryffindor common room with authentic details, including a fireplace, armchairs and a chessboard. The sliding back plate creates magical 3D effects, including an image of Sirius Black appearing in the fire and a trophy showing first or fourth place.
Favorite characters
This compact kit is one of four collectible Hogwarts standard models. Includes Harry Potter, Angelina Johnson and Neville Longbottom minifigures, plus Goldilocks and Gryffindor's sword for playing out countless stories.
LEGO Builder
Children can look forward to an easy and intuitive building adventure with the LEGO Builder app. In it, you can zoom in and rotate models in 3D, save kits and monitor the progress.
LEGO® Harry Potter™ Gryffindor Banner (76409) - Kids can show everyone their Gryffindor loyalty with this buildable banner. Hang it on the wall or open it to reveal a detailed common room
3 Gryffindor characters - Harry Potter, Angelina Johnson and Neville Longbottom minifigures, plus Goldilocks and Gryffindor's sword that can be placed in the common room
Authentic details – The banner boasts the Gryffindor coat of arms and houses a brick model of the common room, including a fireplace, armchairs and candles with holders. There is also a checkerboard piece
Magical 3D effects - Back sliding plate creates the illusion of movement, depth in the staircase, trophy showing first or fourth place, Sirius Black appearing in flames and other effects
A fun LEGO® gift - This kit with 285 pieces based on the stories of Harry Potter is intended for children aged 9 and up. It will serve perfectly as a gift for birthdays, Christmas or any other occasion
Travel games – When closed, banner measures over 8" (20cm) high, 5" (13cm) wide and 1" (3cm) deep. The compact kit fits in children's backpacks and will be at hand wherever they go
A new way to build – Guide kids on their next building adventure with the intuitive LEGO® Builder tutorial app. It will allow them to save their kits, track progress and zoom and rotate models in 3D while they work on them
4 collectible Hogwarts dorms pledges – Kids can expand their pledge collection with the 76410 Slytherin Pawn, 76411 Ravenclaw Pawn and 76412 Hufflepuff Pawn kits
High quality - LEGO® pieces meet strict industry quality standards, allowing for consistent and strong connections
Safety guaranteed - We drop, crush, twist, heat and analyze LEGO® bricks and pieces to ensure they meet exacting global safety standards
Age

9+

Number of pieces

285

Launch year

2023

Minifigures

3
Other products you may be interested in